Deer Hunting Season 2018
Ryan Wilmes
November 16, 2018
It's that time of year again for Missouri Deer Hunting. Hunters need to wear orange hunting gear. Hunters need to have some type of orange hat and orange vest. Now the Missouri Conservation lets hunters have your tags online on the Missouri Conservation Hunting app. Hunters can notch the deer on the app straight from their phone. The regular firearm season started Saturday, November 10th and lasts until November 20th. The late portion of youth firearms season is November 23 and last till November 25th. There is not an Antler less portion this year, but the firearms alternatives methods portion is December 22 through January 1st, 2019.
Tyler Schuman shot a nine-point buck but ended up not finding it, however, he did find the blood trail from it. Gunner Lawrence also shot a really nice 10 point buck. Michail Todd went deer hunting and didn't shoot one because he wanted one with antlers. Audrey Keck went and shot at one but missed. Mr. Weidmer has never gone deer hunting so the NAC news team has decided to take him hunting. Jim Stone from Crocker Missouri shot an albino 11 point buck in the first season of deer firearms season. Make sure you wear your orange good luck hunting.
​
Elizabeth Warren Heritage
by Tyler Schuman
October 22nd, 2018
Ever since Trump has been in the political spotlight he has had nicknames for people in the government. Crooked Hillary for Hillary Clinton or Lyin' Ted for Ted Cruz. He even had one for Elizabeth Warren because she had talked about how she had Native American blood in her. Trump called her Pocahontas. Trump had previously said that he would donate $1,000,000 if Warren could prove her ancestry. Recently Warren has had her DNA tested and the results came back with her having anywhere from a 6th to 10th generation Native American. That could be as little as 0.09% Indian. The average American with a European descent has around 0.18% which is more than Warren. Many people talk about how they still do not classify her as a Native American. President Trump has said that he will not be paying the $1,000,000 since it is not a clear test. The Cherokee Nation themselves has said they do not support this."A DNA test is useless to determine tribal citizenship. Current DNA tests do not even distinguish whether a person's ancestors were indigenous to North or South America," Cherokee Nation Secretary of State Chuck Hoskin Jr. said.
How The Breast Cancer Awareness Month Started

By: Jadyn Sharp
​
It is now October; this is the month of Breast Cancer Awareness. To represent this month we use a pink twisted ribbon. The story of how the ribbon was chosen to be tied comes from a story of a woman in 1979. In 1979 there was a woman who was held hostage and she tied yellow ribbons together to show how she wanted to see her husband again. This idea was used again in 1990 when people tied two ribbons together but this time the ribbons were red and they were used to represent those who were affected by AIDS. From this, they got the idea of twisting the pink ribbons and using them to represent Breast Cancer Awareness. The first logo design was created through the mid-1980's through the early 1990's. In 1990 the very first program for Breast Cancer Awareness was launched. In 1991 in New York City, pink ribbons were given to people who have survived breast cancer and they were given to the people in the Komen New York City Race for the Cure. In 2007 the
Susan G. Komen Breast Cancer Foundation
was changed to the
Susan G. Komen for the Cure.
When they changed the name there was also a new logo made. The new logo had a pink "running ribbon." There is a Komen running ribbon that is reserved for this use every year. Susan G. Komen is the woman who reserves this ribbon. For breast cancer awareness any type of pink ribbon can be used to represent this month. Even schools represent the Breast Cancer Awareness month. One of the ways schools represent this month is by having football games, but at the games, we have what we call a "Pink Out," game. Pink out is where everyone wears pink to represent Breast Cancer Awareness, even the football players. North Andrew's "Pink Out" game is Friday, October 19, 2018.
​
The California Wildfires
By: Michail Todd
In recent years, California has been a major site for droughts and wildfires, due to climate change. This year has been especially harsh towards the state. During mid-July to August, a series of wildfires had brought destruction to the north. Unfortunately, three more wildfires have brought tragedy, destruction, and despair to the world itself this November.
The Camp Fire (also known as the Paradise Fire) began in Camp Creek Road in the Feather River Canyon on November 9th, although the cause is currently unknown- the same can be said about the Hills fire. However, while the cause of the Woolsey fire is unknown, an electrical company experienced an electrical outage near the location of its beginning.
Currently, the Camp Fire has caused at least 70 deaths and destroyed more than 100,000 acres land, causing this to be the most destructive and lethal fire in Californian history. In addition, authorities have yet to find more than 1300 missing people- this doesn't include the destruction caused by the Hills or Woolsley. The city of Paradise has been left to the ash of its former state, with the city's Mayor Jody Jones comparing it to a war zone. In addition, Southern wildfires have cost multiple celebrities their homes. It'll be hard to say how much will be lost to the flames.
Even though the fires will eventually burn out, the effects could be long-lasting. The economy of California or even the U.S. itself would be significantly damaged by being forced to pay for the damage dealt. The worst air quality in the state is Yuba City, with an AQI of 369, which is especially harmful. The homeless population would increase significantly in a state which already has an issue with the situation. In general, the state of California is going to experience a harsh time.
In addition, there will more than likely be a major controversy concerning prisoner's rights. Since World War 2, nonviolent crime-based prisoners have been used for fighting fires. Unfortunately, the 200 inmates have been recently paid at least $1 an hour. In addition, they are actually not allowed to have a career in firefighting after being released. Many claim that this is a violation of prisoner's rights. While it may or may become an issue at the moment, it would likely get worse.
Even our own alumni is affected by the fires. North Andrew Class of 2003 graduate Derek Thompson was forced to evacuate his home in California, along with his wife and his son. NAC News member Audrey Keck has Californian relatives who were forced to evacuate from the fires.
Fundraisers and charities have already made to help those in need. For example, the California Community Foundation is an organization assisting with long-term recovery effects and unemployment, due to the fires. The Salvation Army has already donated 150,000 meals and over $100,000 dollars worth of gift cards. In addition, The IAFF has been helping the firefighters with economic and psychological situations. Unfortunately, I cannot say anything further, as the fire is still going on.
Powered by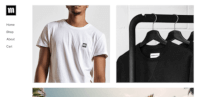 Create your own unique website with customizable templates.